We simply can't avoid the fact that social media and mobile marketing applications provide businesses with extremely effective and rewarding marketing avenues, but let's not neglect our old friend 'the email' however, for when used correctly, email is a powerful marketing tool in its own right and one that should not be overlooked.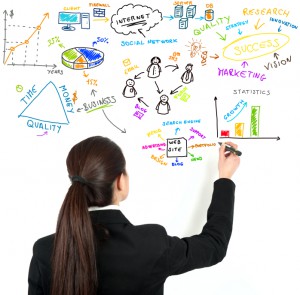 The good old email simply wants to communicate directly with its audience on a one-to-one basis to build relationships and trust with its subscribers and achieve desired results. That's not to say email marketing and social media must never meet, however. Hand in hand they can extend the reach of your emails and exceed your marketing goals & expectations, but let's start from scratch and get your email marketing campaign off the ground with this step by step guide:
Step 1 – Identify your Goal
The key to a successful email marketing campaign lies within your ability to identify aims and objectives from the outset. Are you looking to promote new products? Build relationships with customers? Increase traffic? Generate new business? Once you have determined your aims and objectives you can create a powerful email marketing campaign and monitor its progress to help with the development of future campaigns.
Step 2 – Define your Target Audience
It is incredibly important to identify your target audience. Knowing who your readers are will help you design, write and deliver powerful email marketing campaigns.
Start out by using email addresses you have gathered from existing subscribers and new customer enquiries and develop these lists as your marketing strategies progress. Segment these lists in order to create and deliver communications that target and engage different recipients.
Step 3 – Create Powerful Content
Once you have determined your target audience, it's time to think about email content. What can you say to your audience in order to achieve your objectives? What are your readers interested in and why would they want to hear from you?
Step 4 – Choose your Software Provider
Choosing an email marketing service provider may seem daunting as there are many to choose from (Campaign Monitor, Mailchimp, DotMailer etc) but try to choose an email marketing service provider that suits your goals and expectations.
It's important to feel comfortable and trust the company you select, so take time to find out where the company is based and check out their support services before you make a decision.
Step 5 – Determine Email Structure
You have just a few seconds to draw readers' attention, so be creative. Think of a catchy subject line to compel readers to open your email.
The structure of your email should be inspiring and accessible. Decide whether to include 'teaser' paragraphs in the main body or whether to put all of the content into the email itself.
Make sure the information is easy to read. Think about the layout and the inclusion of graphics to illustrate your content. Use captivating photographs in your emails to increase click-through rate and decrease the likelihood of recipients unsubscribing from your campaign.
Step 6 – Determine your Sending Frequency
Generally speaking, a monthly email is a good place to start with email marketing. If you email too often, your subscribers may get annoyed and think about unsubscribing; however, if you don't email enough, your subscribers may forget who you are and be annoyed you have emailed them. Ultimately, decide what will work best for you and your customers before you proceed.
Step 7 – Ensure your Email Marketing Campaign is Legal
Be sure to comply with legal requirements. If you have collected email addresses you must get consent from the person who the email address belongs to. If your email addresses are collected via your website, you must make sure people are asked to opt-in to receive your email rather than fail to opt-out. Make sure it's clear what people are signing up for and what you intend to do with their data. It is also important you also have an easy to use unsubscribe feature.
For more information on data protection visit http://www.businesslink.gov.uk or http://www.ico.org.uk
Step 8 – Track your Results
Most standard email packages provide vital statistics such as how many people opened the message, how many people clicked on the links to your website or how many people unsubscribed. These statistics help you monitor the success of your campaigns in order to develop them in the future.
If you don't have access to statistics via your email service provider think about creating 'teaser' paragraphs in the content of your email to discover how many people click through to your website that way via your website statistics.
Once you've followed this basic advice, there are a number of tips and techniques you can implement to boost your email marketing campaign. Keep an eye on our blog for more tips to boost your email marketing performance. Please feel free to share your comments and add your own tips and techniques to help newcomers get started below.