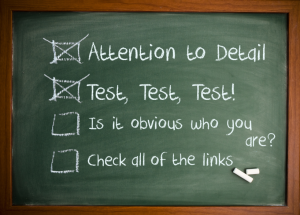 So, you have created an awesome email marketing campaign and you're ready to hit the send button, but stop for a moment, is your email 100% accurate? If in any doubt, hold fire until you are absolutely sure.
The best way to check your email marketing campaign is to create and carry out a prelaunch checklist. Here are our top tips on what to include:
Attention to Detail
It's important to remember that your email marketing campaign is a reflection of your brand and should build a level of trust between you and recipients. Spelling or grammatical mistakes could destroy credibility so be sure to check, double check and then check all content again.
Test, Test, Test!
Test emails enable you to check how your email will look to your recipients and will also enable you to rectify any mistakes which haven't already been picked up on. Send your email campaign to a proof group and if your database includes Hotmail, Yahoo, Google Mail and AOL email addresses, sign up for these free accounts too. Add them to your proof group so you can test each different types of email client. If any changes need to be made, be sure to send the email to your proof group again, and again, and again, if necessary, until it is perfect.
And Test Again!
Test how your email looks on mobile devices. If your email isn't easy to view, consider using responsive design services to optimise it for desktops as well as smartphones, tablets and e-readers. If your budget doesn't allow for this, create your email using responsive email design strategies, e.g. build on a single-column layout as this usually scales better than a multi-column layout, shorten content and make sure the call to action is visible without scrolling, reduce image sizes so they download quicker and make sure buttons are mobile friendly (44 x 44 pixels is a minimum). Then, of course, test, test and test again.
Is it obvious who you are?
Recognition is vital to the success of your campaign. Use a 'from' name that reflects who you are and one that recipients will recognise and trust. Try to avoid using witty names as these may land in the spam folder; usually your business name is the best name to use.
Check all of the links
It is easy to accidently break links or have typos in links, so make sure you and your proof group check that every single link takes you through to the right landing page. A broken link is really annoying for someone who is interested enough to click on it and could lead to the recipient unsubscribing from your emails.
Is your email spam friendly?
Spam filters are in place to detect unsolicited and unwanted emails to prevent them reaching users' inboxes. They scan emails and evaluate them against a list of criteria in order to make a judgement as to whether or not they are genuine. There are a number of steps to take to try and avoid the spam filter:
Create a relevant subject line, but avoid 'spammy' words such as 'FREE', 'CLICK HERE', or 'BUY NOW'.
Don't overuse common punctuation such as exclamation marks or question marks.
Avoid spelling mistakes.
Always provide a clear unsubscribe link
Ensure your email has a healthy balance of images and text.
To find out more about spam filters and how to avoid them, please see my earlier post: 'How to Avoid Spam Filters'.
Have you included a bold call to action?
The call to action is the main point of interactivity in an email and encourages recipients to take some kind of action, i.e to make a purchase, or to download a whitepaper. This click-through link or message should be easy to locate and identify. Be careful of overwhelming readers with too many actions. Distinct, well-thought-out call to actions are often much more effective.
Have you given all the images Alt tags?
Alt tags are short messages that describe images. Make sure all images have alt tags that provide recipients with additional information and encourage them to click to open.
Is your data clean?
Cleaning your data is extremely important. Check your campaign reports for soft bounces and failed sends and be sure to remove these addresses from your email lists. How often you clean your data really depends on how often you will be sending campaigns. As a guide, we suggest you look through your reports and perform a general check of your database once every four months. For large databases of over 10,000 addresses we suggest you clean your data monthly and perform a major clean every six months.
So, there you have it. Our prelaunch email checklist. If you have anything to add, please feel free to comment below.