We're pleased to announce the launch two new pieces of functionality for First Directory.
Questions & Answers allows users to ask questions publicly they would normally email directly to the company. This means that when the company answers they can choose to have their response made public as well. Enabling future users with the same question to quickly see the answer they need. Each company has the ability to control the questions that appear on their page through their admin screen so they can ensure questions and answers which are no longer relevant can be removed.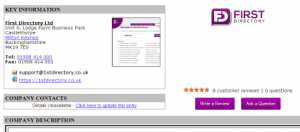 Reviews are probably our most requested piece of functionality and allow a company to really show how highly their product is regarded. Users can add a review to any company as long as their account has been verified. We email a company as soon as a review is posted and give them the right to respond. You can see a lot more information on how reviews are handled here.
We also appreciate some companies are uncertain about the value of reviews.  One perception is that people only write reviews about bad experiences rather than good but 'The Review of Reviews' offers a more balanced view:
75% of Reviews posted on review sites are positive.
95% of unhappy customers will return if an issue is resolved quickly and efficiently.
The complexity of the industrial buy cycle can be long and include multiple decision makers.  Amongst others this has been identified by GlobalSpec who state in their 'Industrial Buy Cycle Survey', that the time between identifying a need and making a purchase can be less than one month or as long as nine months or more, with the length of time increasing as the amount of the purchase increases.
81% stated the buy cycle is less than one month for purchases under $1,000,
38% said the buy cycle is five months or longer for purchases greater than $10,000.
63% of purchases under $1,000 involves just one decision maker.
31% have three or more decision makers for purchases between $1,000-$10,000,
66% have three or more decision makers for purchases over $10,000.
With so many people giving an opinion on product selection it is becoming more important to reinforce their judgement with positive reviews of your company.  Put most simply no matter how good or reliable you may say your product or service is, people will be more trusting of  an actual users view.
In addition good quality reviews can have a positive effect on your placement in the search engines and consequently improving the opportunities to be found by these multiple influencers in the first instance.  As SearchEngineLand noted:
Review Signals: Participants noted that the quality, velocity and diversity of online reviews and rankings resulted in 10.3% influence in determining performance.
If you're worried about the quality or quantity of reviews you'll receive,  a positive step you can take is to talk to your existing customers, give them a link to your company profile on First Directory and ask them to add their own review to get the ball rolling.