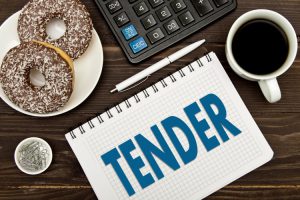 The tendering process is utilised by many different organisations, both in the private and public sector. When a business, or the government are looking for goods or services, they will use this process in order to choose which company to work with. The tending process can range from relatively simple- to much more formal and complex. However, if businesses progress to the bidding stage and actually win the contract- it can offer a wealth of benefits. Not only will they have a lucrative contract, it can also open doors for a long-term relationship, resulting in further work.
Although beneficial, the tendering process can also be expensive, time consuming and resource heavy for the companies looking to win the contract. This is due to the analysis and submission of a tender, which is basically the way in which a business illustrates how they are ideal for the contract. First a company has to analyse the tender in order to decide whether it's even worth going any further.
The next step is submission, which may be as simple as a letter however the process can be more complex at times- especially within the public sector. Therefore, some companies will outsource this aspect of the tendering process to specialists. Obviously whether a business chooses to do this will depend on many different factors but it is something to keep in mind.
Before even attempting to search for tenders- it's important for companies to ascertain whether they are ready to actually submit tenders and eventually submit bids. Organisations that are looking for a vendor will often have very high standards when it comes to who they choose to offer their contract to. The consideration of these factors is vital before sinking any money into the search for tenders or overall tendering process.
The industry has never been more competitive and actively searching for tenders can be the best way to even out the playing field but there are things to keep in mind. For example, it may be tempting to reply to a wide range of tender opportunities but as already mentioned- the process requires time and money. It can make more sense to focus on a few advertisements, choosing quality over quantity.
When searching for tenders, there are many different options to choose from. Obviously the first port of call is online and you can find a wealth of resources in this area- both free and subscription. Companies that are willing and able to put the work in should opt for free resources, many of which focus on public sector contracts. However, businesses can also outsource their tender search. Obviously, this costs money but it does cut down on time and effort and could allow for connections that couldn't otherwise be made.
Although the internet is the now the main source of opportunities, companies should also look in to newspapers and specialist magazines. These may not offer as many contracts but it could be a fairly untapped resource and one that shouldn't be ignored.
Another technique which is often ignored is offline networking such as specialist events or seminars. Connecting with other organisations on a personal level is a successful way in which to build strong, long-lasting relationships. These types of events offer a unique opportunity to find out about and express interest in existing or prospective contracts. Obviously, the tendering process is still applicable but building these types of B2B relationships can be significant in searching for tenders.
There are many ways in which to approach a tender search and just the process of actively searching is likely to increase the chance of success. However, winning a contract can require a lot of investment- including time, money and effort and vendors should decide how much they have to invest before they begin their search.
Free Resource: